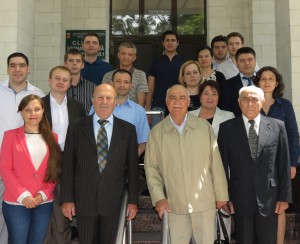 Department of Maxilo-Facial Surgery was founded in 1961. Till the 1st of July1968 chef of cathedra was famous scientist, PhD, university professor Nicolai Fetisov. During this period, supported by the docent  V. Titarev, A. Gutan, V.Ocusco were organized clinical bases of the cathedra, traced main directions for the development of the speciality, initiated education programs through doctorate and clinical secondariate of the national specialists.
Since 168 till 1994 the cathedra was leaded by professor Arsenie Gutan. Durign this period scientific-didactical potential of the cathedra raised considerably, the study process was improved, clinical bases were modernized, were organized postuniversitary study courses, afterwards became a part of the doctors professional improvement cathedra.
During the period of 1995-2012  traditions of the cathedra were continued under the lead of Professor  Dmitrii Scherbatyuk. Since 2010 as an initiative of the personel cathedra is named after famous scientist and pedagog Arsenie Gutan.
In 2013 the course of Oro-Maxilo Facial surgery and oral implantology of the Faculty of Continuous Education in Medicine and Pharmacy became a part of the cathedra, and now it is called : "Cathdra of Oro-Maxilo Facial Surgery and Oral Implantology Arsenie Gutan". Chief of cathedra was named Professor Valentin Topalo.
During its activity, cathedra staff sustained 6 thesis of doctor habilitate  (Vladimir Ocușco, Arsenie Guțan, Pavel Godoroja, Dumitru Șcerbatiuc, Valentin Topalo, Ion Munteanu), 24 doctor of Medicine, were published 11 monographs, 6 compendiis, published over 2000 scientific articles, obtained 25 patents  and over 320 innovation patents.
            Personel of the cathedra participated with scientific reports at the congresses of the World and European Associations of Oro-Maxilo Facial surgery in Sankt-Petersburg, Amsterdam, Budapest, New York, Zurich, Helsinki, Miami, Washington, Athens, Davos, etc. Unviersity professors Dumitru Scerbatiuc and Valentin Topalo are members of the European and World associations of Oro-Maxilo Facial surgeons.
University professor V. Topalo is a member of the European Association of Osteointegration.
Cathedra of Oro-Maxilo Facial Surgery and oral implantology "Arsenie Gutan" collaborates with similar cathedras from Iasi, Cluj-Napoca, Zurich, Konstanz (Germany).